Manufacture of helical shafts and augers
Manufacture of helical shafts
The manufacture of our augers/flighting using the cold forming method allows us to obtain a product with the best technology on the market, as their thickness is consistent throughout. Thus, we provide the highest performance in terms of wear and tear, extending the service life of our products. Manufacture of helical shafts and augers
This is the type of auger recommended for all applications where resistance to wear and tear is important, and it is recommended by manufacturers and engineering companies as a substitute for continuous lamination augers.
Complete shafts with cold-formed, laminated flighting can be used in different sectors, mainly in industry, the food sector, sludge treatment, the agricultural sector, the chemical sector, water treatment, etc.
The auger shaft can be used as needed by the customer, adding machined ends for final attachment to equipment.
Once the flights are added to these augers, alignment is undertaken and a paint treatment is applied in accordance with the required specifications.
Guaranteed quality in our augers and shafts
In order to guarantee the quality of the auger and shaft, once approval has been given and manufacture is undertaken, the technical team undertake a verification of all dimensions and, in the event of any anomalies, the problem will be solved before delivery to the customer.
Thus, we can guarantee that all the augers that come out of our facility are fully reviewed and delivered with the highest quality.
At Heli-Trans, we are committed to manufacturing all of our equipment with the necessary requirements as specified and always with utmost quality — these are our trademarks.
The assembly can be supplied with or without an inner shaft in accordance with to the customer's needs.
The different types of shafts that we can supply (both clockwise and counterclockwise) are:
• Standard auger with pitch defined by customer.
• Conical screw (inner or outer edge).
• Variable pitch auger.
• Archimedes' screw pump (shaftless).
• Radial auger.
• Shafts with swiveling paddles.
• Mixing augers.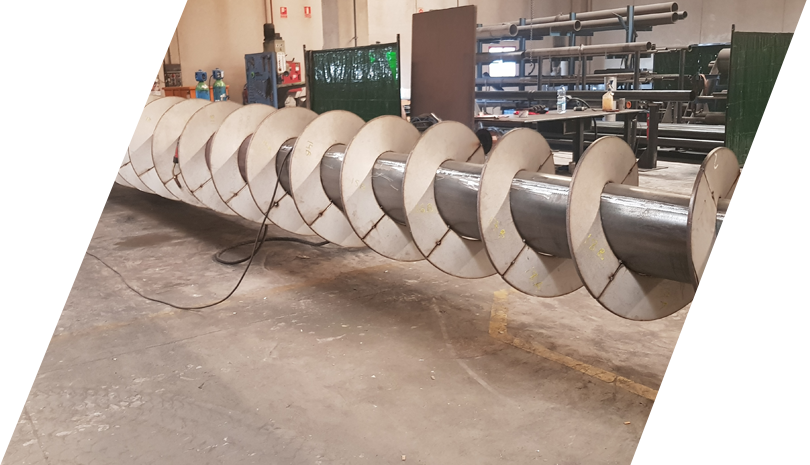 Fill in this simple form and we will help you as soon as possible.