Continuous flight auger manufacturers
In recent years, after the 1,200 m2 extension of our facilities, we have incorporated the continuous flight augers in both carbon steel and AISI-304. We are able to manufacture them in other materials on request. Continuous flighting: the most economical solution
Continuous flight solutions are the best and most economical solutions for the transport of material.
Because they are manufactured using the cold forming method, all their mechanical characteristics remain intact, thus achieving great accuracy in terms of measurements.
Depending on their thickness, they are classified into the standard, semi-heavy-duty, and heavy-duty series.
Supply of continuous flight augers
We have a lot of stock of both clockwise and counterclockwise models for immediate delivery. There is the possibility of providing the auger mounted with its shaft/tube.
Continuous auger designed specifically for applications in the food and chemical industry. Manufactured in stainless steel (AISI-304). For large quantities, manufacturing can also be undertaken in AISI-316.
Sizes range from an outer diameter of 60 mm up to 500 mm. Supplied with the shaft or only the thread, being able to spin in a clockwise or counterclockwise direction.
Custom continuous flight auger design
Specifically designed for countless applications.
The heavy-duty model features some of the best properties on the market in terms of quality, precision, robustness, and durability. Thanks to our cold forming method, we can manufacture any dimensions needed.
The flighting is made in a machine that can make a continuous set of flighting from a single plate. Because of the cold forming method, the properties of the material are not lost.
All in all, continuous flighting is the most economical option for augers in many different pieces of equipment that do not require very demanding properties.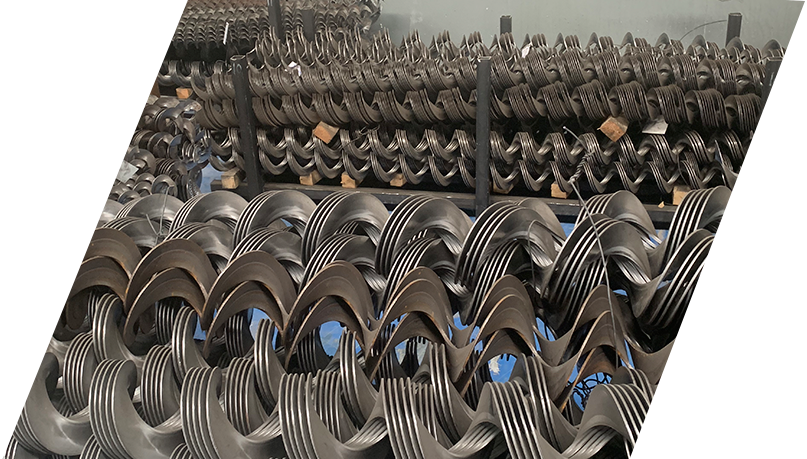 Fill in this simple form and we will help you as soon as possible.