More than 20 years of experience in the manufacture of equipment for the handling, transport, and lifting of solid materials. National leaders in the manufacture of auger bits for both vertical and horizontal drilling.
Our main fields of action are aimed at the paper, food, chemical, water treatment, and recycling industries, among others.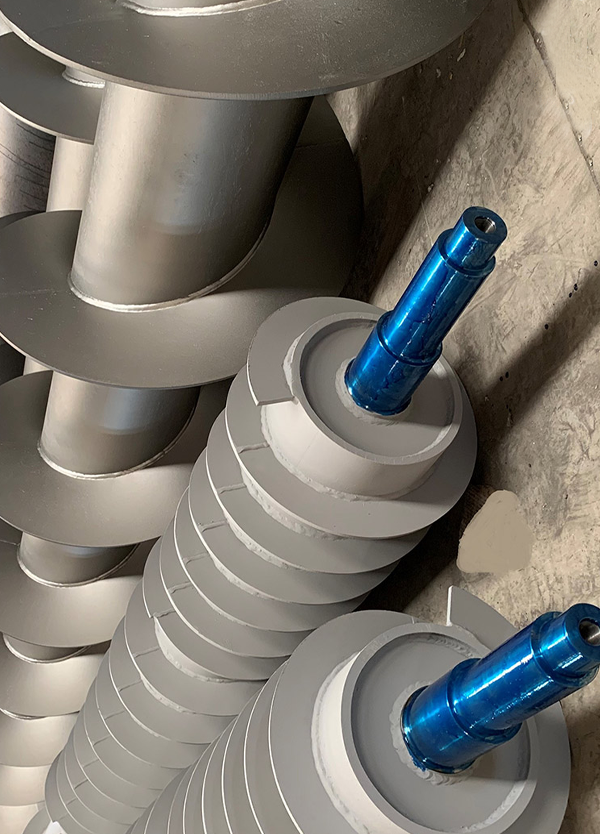 Auger conveyors are used to transport powdery and granular materials. Our manufacturing process allows us to manufacture any dimensions needed.

Manufacture of flighting with great precision in terms of size with a very high quality finish. The flighting is made from iron sheet, stainless steel, anti-wear steel, etc.

We are direct manufacturers of both spare flights and complete bits and accessories for auger drilling machinery.

Continuous flight augers are something that is highly demanded by our clients and that we did not originally have among our usual products. Continuous flight solutions are the best and most economical solutions for the transport of material.
To adapt to the needs of our customers by manufacturing top quality products.
We strive to obtain maximum efficiency in production processes in order to provide the best possible service to our customers.
Honesty, quality, and innovation are the pillars that govern our company in order to satisfy the needs of our customers.
Main sectors for our auger-based equipment
PAPER MILLS
As an expert manufacturer, Heli-Trans has been providing customized solutions for the paper industry for over 20 years, both for individual machines and comprehensive projects. Tanks to our years of experience working with companies in various sectors, we design and manufacture robust and powerful auger equipment that is fully adapted to each company's different manufacturing lines. Our focus on continuous improvement, innovation, and cutting-edge technology is a safe bet to optimize your productivity.
AGRICULTURAL AND LIVESTOCK SECTOR
The agricultural and livestock sector has always required high-quality machinery. Therefore, it requires its suppliers to maintain these quality requirements in the supply of auger-based components, spreaders, vertical and horizontal unifeed solutions, etc. We specialize in the design and manufacture of components for agricultural and livestock machinery.
Because of our flexible production process, we can adapt our manufacturing to the needs of our customers. This is a great advantage compared to the mass production processes of other suppliers.
RECYCLING INDUSTRY
The importance of recycling in our country has increased in recent years. Heli-Trans has joined companies in this sector to assess and design equipment for the recycling process, adapting supply to the unique characteristics of each plant.
– We supply lifting and storage equipment.
– Auger conveyors with ribbon flights, essential for material processing.
– All types of auger conveyor equipment.
WINE INDUSTRY
Since our beginnings, Heli-Trans has been engaged in the design, manufacture, and maintenance of equipment for wineries.
Thanks to our experience and our requirement of utmost quality, we are present at the most important wineries of our country.
CONSTRUCTION INDUSTRY
During the years of the construction boom, Heli-Trans was, and continues to be, the undisputed leader in the manufacture of continuous flight augers (CFA).
Our experience and quality have led us to continue our specialization in this field, which is why we currently export this type of equipment to several European countries.
We are qualified (both technology-wise and as a team) for the design and manufacture of auger bits to provide solutions to any foundation application.
The features of these augers are defined by your needs. We have manufactured auger bits with the following features: Ø 3000 mm and a thickness of 40 mm.
BIOMASS INDUSTRY
The production of energy with forest biomass has enormous potential for development in Spain, the second country in the European Union in terms of forest surface area.
It is the most stable renewable energy and the only one that can be managed without depending on external factors.
Electricity is co-generated using wood bark and forest waste.
Heli-Trans supplies these plants with AUGER FLIGHTING AND CONVEYOR EQUIPMENT to grind, transport, and lift the finished product.
Heli-Trans is a company with more than 20 years of experience in the manufacture of equipment for the handling, transport, and lifting of solid materials.
Request a quote for our augers and conveyor equipment, as well as for all the component that make up said equipment: flighting, shafts, troughs, trough ends, etc.
Our technical department studies the most feasible way to carry out your project, providing individual solutions for all your needs. We are committed to innovation and technology.
This department advises the manufacturing department so that production unfolds with the strictest quality specifications.
We have an excellent after sales service that adapts to the needs of our customers. We guarantee utmost quality in our service.
Fill in this simple form and we will help you as soon as possible.